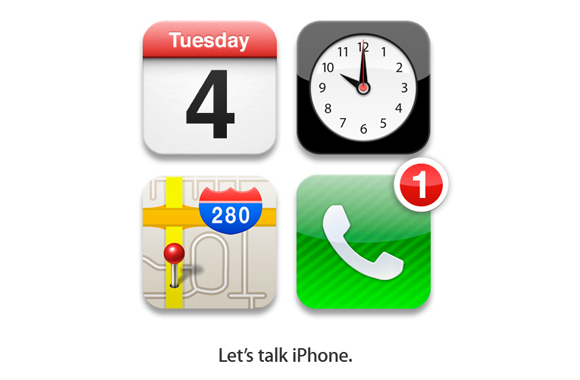 Rumors have been swirling around the Internet for months about what to expect from Apple's latest offering, the iPhone 5. Finally, last week, Apple confirmed that a press conference would be held on Friday, October 4th. This came after former Vice President Al Gore let it slip that a new iPhone was on the way; Gore is a member of Apple's board. Little information was given about what the conference would entail, but the official e-mail invitation said "Let's talk iPhone".
According to the rumor mill, the iPhone 5 will come equipped with an 8 megapixel camera, a step up from the iPhone 4's 5 megapixel. Other rumored upgrades include: 1 Gigabyte of RAM (up from 512 Megabytes), a larger screen, and a complete operating system upgrade to iOS 5. Oh, and don't forget that other big rumor: The iPhone 5 will be available for purchase on October 14.
Apple's website has been quiet since July, when they confirmed that the iOS 5 was ready, but no official release date has been announced. We'll assume this just another detail to be included in October's press conference. According to the official website, the iOS 5 will include over 200 new features and features a new program called Newsstand, which will manage all of your newspaper and magazine subscriptions.The videos and pictures look very clean, crisp, and user friendly, exactly what we expect from the tech giant.
As most of us know, Steve Jobs announced his resignation in August, appointing Tim Cook as the CEO. However, Jobs did put in his application as Chairman of the Board, so his influence at Apple isn't completely gone. Fans are anxiously wondering if Jobs will make an appearance at the October 4th press conference, or if Cook will be handling the news announcements solo.