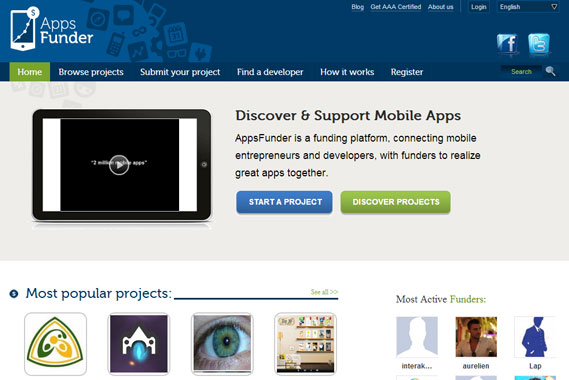 As a developer, you've probably encountered some problems while trying to market your app – how to get the word out, who to contact, what strings to pull. Have you ever experienced a project halt becase you didn't had any more resources to continue the development process? If so, AppsFunder might be of interest to you. Now, the same story from the other point of view – you're a businessman looking for business opportunities, projects worth investing in but you're having a hard time finding them. AppsFunder will be a great ally for you as well.
So, how can AppsFunder help your app?
It's actually a lot like Kickstarter for mobile apps. First you'll have to register and submit your app and describe the project. The submission is then rated on four different criteria: innovation, technology, business potential and your team. If your app recevies a total score of 70% or more, it gets AAA (AppsFunder App Authorities) certified which automatically gives you more exposure, more credibility and increases your funding potential.
If you are an entrepreneur in this story, you can click the Discover projects button and look for some amazing projects that can benefit from your funding and know-how. Filter projects by categories or by their time limit – some of them are expiring and it would be a shame if you missed a nice one. For each project you'll see how much funds is already raised and how much more is needed to get to a successful funding. Also, the AAA certified projects will have a special badge so you'll easily spot them.
If you're just looking for a developer to hire, you can do so on AppsFunder as well – check out our profile!
What do you get in return?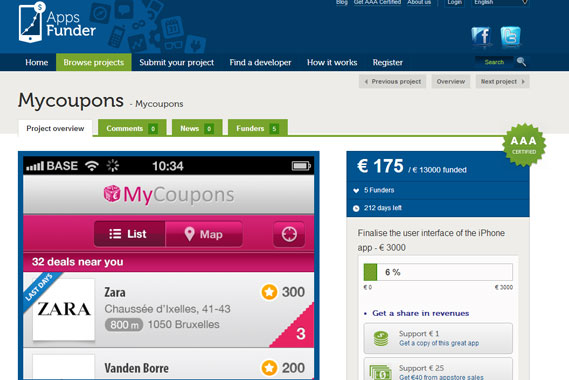 As you want your app to be funded, you'll have to offer something in return to your funders. Of course, you can define what will people get in exchange for a defined amount: eg. if someone backs you up with a single dollar, you'll give them the app for free. If they give you 50 dollars, you'll get them 100$ from appstore sales etc.
Don't forget to describe your app in detail – you should mention what makes it so unique and why you need support from the crowd. Add some screenshots if possible and share your campaign all across the web. The great thing with AppsFunder is that it actually works and it will bring you funders, so if you have a project that is waiting for some money, head over to AppsFunder and get your funds!