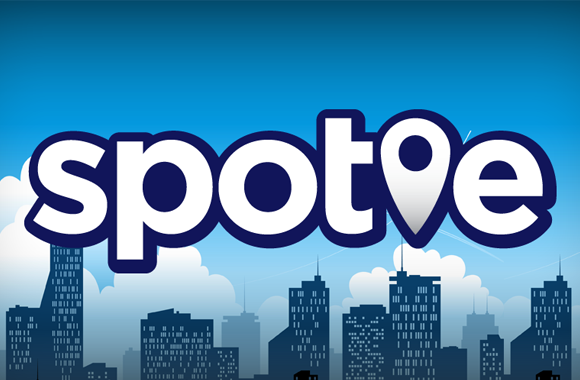 Spotie is a brand new, location based social network that isn't focused on the location, but the event. That means you'll be able to see where is the party, is the music good or bad and who is there.
What's Planet's role in this Croatian startup? Well, we helped them build their iPhone application! It got released several days ago and you can get it for free in the AppStore. Spotie itslef is still in closed beta and you need to get an invitation from a user of the service.
Let's talk about Spotie!
Spotie came to life from Croatian based company which had some great features around the world. Their latest presentation was at AppCircus in Ljubljana, TechCrunch 2011 and How To Web in Romania.
And what's it all about? Let's say you're on a trip to New York and you want to go out and have some great time. You may check what's on Foursquare but you'll find tips only – wow, this party is awesome (posted 6 months ago). With Spotie, you can see what is (and where) going on right this minute! Open the application and the map will list all the places with "spots" on it, so you can easily find the best place you want to go to. Spotie also saves you time; before heading out, check out what places are worth visiting and what aren't. That way, you'll no longer spend an hour or two walking around looking for a great time.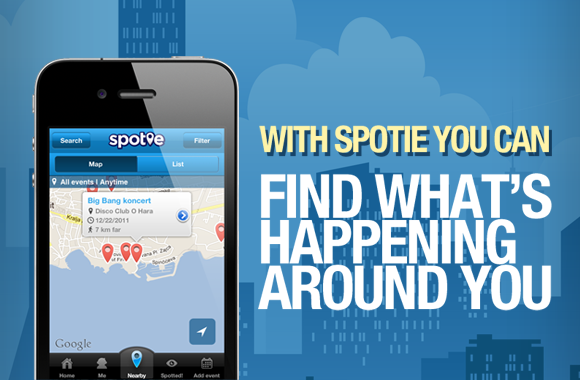 Spotie for iPhone
Our iPhone app for Spotie consists of five main screens:
Home;
Me;
Nearby;
Spotted!;
Add event.
Home will show you the upcoming events in the next 30 days or the timeline of past events of your friends. The Me screen will show you your information, what events you created and where were you checked in. You can also modify your account information on this screen.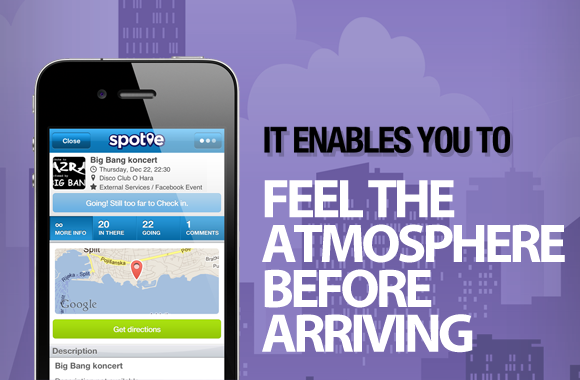 Nearby is the heart of Spotie; it shows you the map (or the list) with all events around you. Spotted! is an interesting feature of Spotie – when you see a person on a event you're attending, you can "spot" him. He will then get a notification that he is being spotted so you two can arrange a meeting or a drink. Of course, you can only spot the person who has checked in at the event. Add event is pretty straightforward – you can add your events and share it with your friends.
The development of this app was a great experience for us at Planet1107. We think that we did a pretty good job with it, but we'll let Spotie's users to decide. If you have any questions about the application and the technicality behind it, let us know in the comments. Meanwhile, download Spotie, request an invite and start spotting!