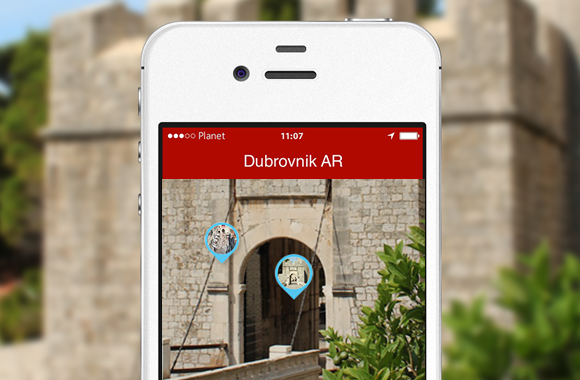 We're proud to announce that we have just released Dubrovnik AR – a new mobile app made in cooperation with great people at Dubrovnik Tourist Board. It's an iPhone app which shows you what places you should visit while in Dubrovnik and it provides additional information with a little help of augmented reality.
The app is pretty straight-forward and easy to use. The main screen is divided into three main sections:
high-quality images of Dubrovnik
local weather information
map with categorized points of interest
There is also a sidebar where you can choose language of the interface and we currently support English, Croatian, French, German, Russian, Japanese and Spanish.
So, when you're in Dubrovnik, download Dubrovnik AR and pick a sight you want to see. The categories which you can choose in the app are: Sights, Museums, Natural Sites and Public Services. Depending on which one you choose, pins on the map will change and show you the locations from that particular category.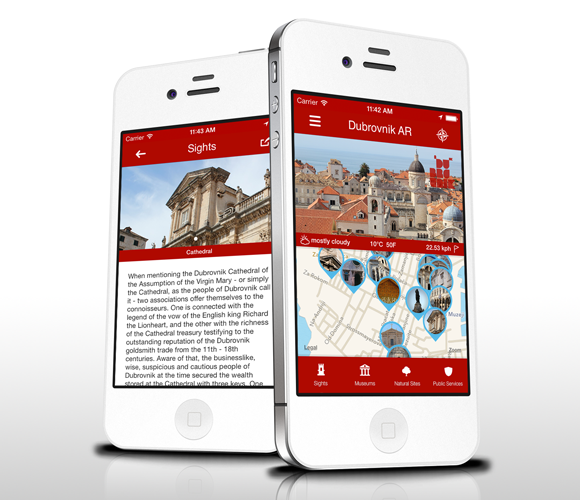 Once you get to your destination, take out the Dubrovnik AR app and tap the compass icon in the top-right corner of the screen – the augmented reality view will pop up and show you some location nearby. Point your device towards the site you're looking at and find out more about it. For each location you're checking out you can enable the augmented reality view to get some better experience.
Tourism AR
We're pretty happy to get the chance to work with Dubrovnik Tourist Board on this project. We do believe that apps of this sort will be used much more and they could be a great help to tourism – additional information is often needed and it is relevant only when you're at the site. If you haven't already, download Dubrovnik AR right now.
And if you didn't know – Dubrovnik also serves as a shooting place for King's Landing from the Game of Thrones, which is another strong reason to visit Dubrovnik and see it for yourself – and with Dubrovnik AR of course!